How Can We Put a fence for a property in Chennai ?
Fencing a property in Chennai can be done several ways, depending on your preferences, budget and the purpose of the fence. Here are some common methods:
Concrete Fencing: This durable and secure option for fencing is a popular choice. Concrete fence posts are installed with a concrete slab as the base, then slotsted panels slide into them. Panels can be plain or decorated with patterns, painted to match the color of the building.
Chain link fencing: Chain link fencing is a cost-effective and quick installation option that requires interlocking metal wires to form a mesh. It's commonly used for boundaries and sports fields.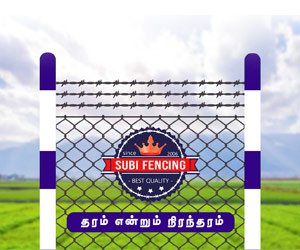 Bamboo fencing: Bamboo fencing is an eco-friendly choice that's lightweight and attractive. Not only can it provide privacy and shade, but it can also give off a tropical vibe in gardens and outdoor spaces.
Wrought iron fencing: Add an elegant touch to your property with this decorative option. Crafted out of durable iron, wrought iron fencing can be designed to fit any style or shape perfectly.
Before installing a fence, it is essential to consult your local authorities and guarantee you follow any regulations or permits necessary.
Here are some additional tips and things to consider when fencing a property in Chennai:
Decide the purpose of your fence: Are you installing it for privacy, security, decoration or to keep pets or children secure? This will influence decisions regarding height, style and materials used in its construction.
Select the Appropriate Materials: As previously discussed, there are various fencing materials to select from. It's important to take into account factors like climate conditions, required upkeep frequency and cost when making your selection.
Decide the Height of Your Fence: Ultimately, the height of your fence depends on a number of factors including privacy needs, local regulations and its intended use. For instance, a 6-foot fence might provide adequate seclusion while a 3-foot barrier could keep pets or children contained.
Hire a Professional Fencing Contractor: Hiring an experienced fencing contractor to install your fence is highly recommended. They can assist with the design, measurements, materials and installation.
Obtain Necessary Permits: Before installing a fence, check with your local government or homeowners association to see if any permits are necessary and what regulations or rules must be adhered to. They can advise you of any necessary permits as well as what steps need to be taken for installation.
By following these tips, you can guarantee a smooth fence installation and the desired outcomes.
For hassle free fencing installation in Chennai contact Subi Fencing contractors in Chennai
Contact : +91 9994507632